Six Month Smiles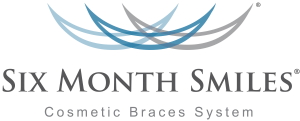 For many people, the thought of undergoing dental treatment to correct misaligned teeth conjures up images of clunky metal braces, painful appliances, and a long, uncomfortable process. However, one of the newest and most exciting orthodontic treatments, the Six Month Smile® system, can change the way your smile looks in just six months. By utilizing the latest technology in orthodontic dentistry to move your teeth in a quick and safe manner, Six Month Smiles® target the teeth that are visible when you smile, rather than all of your teeth, to help you show off straighter, more beautiful pearly whites.
The Six Month Smile® System is a discreet treatment that can correct most orthodontic problems like gaps between teeth, crooked, and crowded teeth, as well as some bite alignment problems. The virtually undetectable braces of the Six Month Smiles® are tooth colored brackets and wires that are much smaller than traditional metal braces and are only visible from very close up. They are also known to be one of the most comfortable forms of orthodontic treatment because they use very gentle forces to move teeth into the proper place. While they may take some getting used to, most patients should feel little discomfort once they have adapted to them.
After the Six Month Smile® System is removed, Dr. Rutherford will advise you to wear a removable retainer for a period of time to help ensure teeth stay in the right position. Otherwise, no additional treatment should be needed – although, oftentimes patients consider undergoing another cosmetic procedure such as teeth whitening to add the finishing touches on their new smile.
Contact The Art of Dentistry
Please feel free to contact our practice for more information about how Six Month Smiles® can help you smile with confidence and vitality.