Six Month Smiles®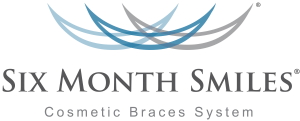 For many people, the thought of undergoing dental treatment to correct misaligned teeth conjures up images of clunky metal braces, painful appliances, and a long, uncomfortable process. However, one of the newest and most exciting orthodontic treatments, the Six Month Smiles® system, can change the way your smile looks in just six months. By utilizing the latest technology in orthodontics to move your teeth in a quick manner, Six Month Smiles® targets the teeth that are visible when you smile, rather than all of your teeth, to help you show off straighter, more beautiful pearly whites.
Benefits of Six Month Smiles®
The Six Month Smiles® system is a discreet treatment that can correct most orthodontic problems like gaps between teeth, crooked and crowded teeth, as well as some bite alignment problems. Unlike traditional braces, the virtually undetectable braces of Six Month Smiles® consist of tooth-colored brackets and wires that are much smaller than metal braces and are only visible from very close up. The benefits of Six Month Smiles® may include:
Improved tooth alignment within six months
Inconspicuous orthodontic treatment for straighter teeth
An alternative to clear braces for patients with more severely misaligned teeth
Often less expensive than other orthodontic methods due to shorter treatment duration
As an added advantage, the Six Month Smiles® system is also known to be one of the most comfortable forms of orthodontic treatment because they use very gentle forces to move teeth into the proper place. While they may take some getting used to, most patients should feel little discomfort once they have adapted to them.
Candidates for Six Month Smiles®
Though orthodontics are often associated with children and teenagers, Six Month Smiles® is often ideal for older teenagers or adults who want to discreetly straighten their teeth quickly. Candidates for Six Month Smiles® typically share the following characteristics:
Crooked teeth in the visible part of the smile
Gaps and spaces
Occlusion issues
Difficulty brushing or flossing with ease
Stained or discolored teeth due to tooth misalignment
Older orthodontic patients are often particularly concerned about the visibility of their braces, making Six Month Smiles® a good choice for patients who want to quickly and inconspicuously improve the beauty of their smiles.
Six Month Smiles® Procedure
By utilizing tooth-colored nickel titanium wires, Six Month Smiles® can achieve effective results with less force than more traditional orthodontics. The treatment is designed to maximize comfort for the patient and decrease treatment duration without sacrificing the quality of the results. In addition, the gentle force used to move the teeth also minimizes the chance of root or tissue damage when compared to traditional braces.
After the Six Month Smile® system is removed, Dr. Rutherford will advise you to wear a removable retainer for a period of time to help ensure teeth stay in the right position. Otherwise, no additional treatment should be needed – although, oftentimes patients consider undergoing another cosmetic procedure such as teeth whitening to add the finishing touches to their new smile.
Please feel free to contact our practice for more information about how Six Month Smiles® can help you smile with confidence.