Cosmetic Dentist in Odessa Selected as Texas Super Dentist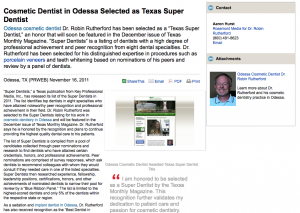 Odessa cosmetic dentist Dr. Robin Rutherford has been selected as a "Texas Super Dentist," an honor that will soon be featured in the December issue of Texas Monthly Magazine. "Super Dentists" is a listing of dentists with a high degree of professional achievement and peer recognition from eight dental specialties. Dr. Rutherford has been selected for his distinguished expertise in procedures such as porcelain veneers and teeth whitening based on nominations of his peers and review by a panel of dentists.
"Super Dentists," a Texas publication from Key Professional Media, Inc., has released its list of the Super Dentists in 2011. The list identifies top dentists in eight specialties who have attained noteworthy peer recognition and professional achievement in their field. Dr. Robin Rutherford was selected to the Super Dentists listing for his work in cosmetic dentistry in Odessa and will be featured in the December issue of Texas Monthly Magazine. Dr. Rutherford says he is honored by the recognition and plans to continue providing the highest quality dental care to his patients.
The list of Super Dentists is compiled from a pool of candidates collected through peer nominations and research to find dentists who have attained certain credentials, honors, and professional achievements. Peer nominations are comprised of survey responses, which ask dentists to recommend colleagues with whom they would consult if they needed care in one of the listed specialties. Super Dentists then researched experience, fellowship, leadership positions, certifications, honors, and other achievements of nominated dentists to narrow their pool for review by a "Blue Ribbon Panel." The list is limited to the highest-scored dentists and only 5% of the dentists within the respective state or region.
As a sedation and implant dentist in Odessa, Dr. Rutherford has also received recognition as the "Best Dentist in Odessa" by the Odessa American Readers' Choice poll. At his practice, he focuses on cosmetic and restorative dental procedures ranging from teeth whitening to orthodontics. "I am honored to be selected as a Super Dentist by the Texas Monthly Magazine. This recognition further validates my dedication to patient care and passion for cosmetic dentistry."
About Robin Rutherford, DDS
Dr. Robin Rutherford graduated with honors from Texas A&M and finished in the top quarter of his class at the University of Texas Dental School in San Antonio. He is a member of the American Academy of Cosmetic Dentistry and the American Orthodontics Society, and is a Fellow of the Dental Organization for Conscious Sedation. Dr. Rutherford is also a Diplomate of the American Dental Association, an honor bestowed on fewer than 1% of member dentists and the organization's highest level of recognition. He has been featured in "Odessan" Magazine, Consumer Research Council's "Guide to America's Top Dentists," and the cover of the Permian Basin Pulse Magazine for his selections as the "Best Dentist in Odessa."
The Art of Dentistry, Dr. Rutherford's practice, is located at 4712 E. University in Odessa, TX and can be contacted at (800)55- GENTLE or (432) 367-0202. It can also be reached online at the website gentledentaldoc.com or facebook.com/gentledentaldoc.
###