Traditional dentures can be ill-fitting, uncomfortable, and can even impede your ability to speak properly or chew certain foods. At The Art of Dentistry, we offer a state-of-the-art alternative to traditional dentures known as implant-supported dentures. Characterized by their natural look and high degree of stability due to being anchored to the jawbone by dental implants, implant-supported dentures can restore the look and function of your teeth. Our cosmetic dentist, Dr. Robin Rutherford, offers many advanced implant-supported denture options, including the innovative All-On-4® technique,  that can help you achieve your goals and improve your smile.
What Are Implant Dentures?
Implant-supported dentures, also referred to as implant-anchored dentures or simply "implant dentures," combine the benefits of advanced dental implants with a custom denture to provide a stable, natural-looking teeth replacement. Implant dentures are fastened to a select number of titanium posts implanted through the gum tissues and anchored to the jawbone. Over time, the posts should integrate with the jawbone and become a permanent part of the mouth. These dental implants serve as a strong foundation of support for a denture, which can ultimately help you replace full sets of missing teeth. Results function more like natural teeth and help restore the appearance of your smile.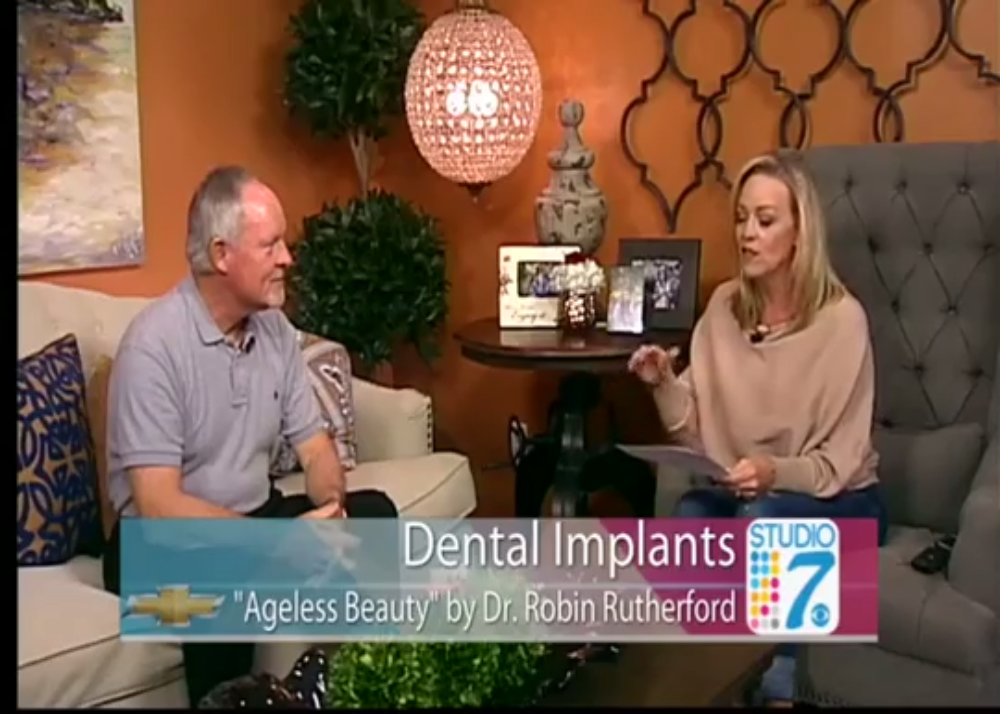 What Are The Benefits Of Implant-Supported Dentures?
Implant dentures can provide a number of benefits over other oral restoration methods, including:
Greater security – The chance of slippage while you talk or eat is significantly reduced.
No need for oral gels or adhesives – Your dentures will be held in place by implants.
Enhanced aesthetics and comfort – Your dentures will be custom-designed to fit comfortably in your mouth for a more natural look and feel.
Increased eligibility – Implant dentures utilize just a few dental implants that are strategically placed in areas of the mouth with enough jawbone density to securely accommodate them. In some cases, patients who may have been told previously that they were not candidates for full dental implant replacement of missing teeth may therefore be eligible for implant dentures.
Long-lasting results – Implant-supported dentures are durable and can last a long time with the proper care.
What Are My Implant Denture Options?
Implant dentures can resolve an array of concerns for patients who have multiple missing teeth in certain areas, as well as for those who are missing all of their teeth. Our office provides patients with a range of implant denture options, including the All-On-4® implant denture technique. With implant dentures, patients can achieve:
Upper Arch Replacement
Individuals who are missing the entire row of teeth on the upper dental arch can have them effectively replaced with an implant denture. This can be highly beneficial for speaking and chewing, in addition to renewing smile aesthetics.
Lower Arch Replacement
Teeth replacement with a custom implant denture on the lower dental arch can restore all missing teeth in this area and dramatically improve chewing. Lower arch replacement can also help prevent alterations in jaw symmetry and facial aesthetic balance that may result from multiple missing teeth in this region.
Full Mouth Restoration
Implant dentures placed on both dental arches can produce an effective full mouth restoration for patients who are missing all of their teeth. These comprehensive procedures can create significant functional and aesthetic reconstruction, ultimately having a positive effect on one's daily life.
How Is The Implant Dentures Procedure Performed?
Implant-supported dentures can often be inserted in a single visit to our office. During your procedure, small titanium posts will be implanted through the gum tissue and anchored to the jawbone, leaving a portion of each post extending out from the top of your gums. Over time, the implants should fuse to the jawbone and function in ways very similar to natural tooth roots. At the time of implantation, your custom dentures will be secured to the tip of each post to ensure the greatest degree of stability. Treatment times may vary, but downtime and recovery is often relatively minimal. Following your procedure, we will discuss how to care for your implant-supported dentures to achieve the most effective and longest-lasting results.
How Much Do Implant-Supported Dentures Cost?
The cost of implant-supported dentures is largely dependent on each patient's customized treatment plan; therefore, the price can vary significantly from one individual to another. Factors that will be taken into account include:
The number of dental implants that will be necessary to securely stabilize the denture
The price of the custom denture
Any additional dental treatments that may be necessary before implant placement
Fees associated with any sedation dentistry techniques that may be requested
Once your implant dentures treatment plan is developed during your initial consultation with Dr. Rutherford, a member of our dental team will calculate the cost estimate for your procedure, which will include all associated fees. Our practice is committed to making the price of dental care as convenient as possible for all patients. That's why we accept a full array of payment methods, including dental financing arrangements through CareCredit®. This reputable lending agency offers a comprehensive range of monthly payment plans for qualified applicants who are looking for the best ways to bring treatment into their budget.
For more information on implant-supported dentures, or to learn about our other cosmetic dentistry treatments and procedures, please contact The Art of Dentistry. Our experienced staff will answer any of your questions and help you schedule a consultation with Dr. Rutherford.