Cosmetic Dentist in Odessa, TX Supports Marine Toys for Tots Program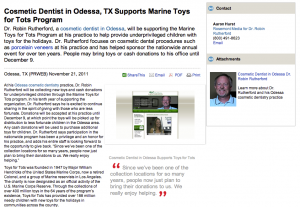 cosmetic dentist in Odessa, will be supporting the Marine Toys for Tots Program at his practice to help provide underprivileged children with toys for the holidays. Dr. Rutherford focuses on cosmetic dental procedures such as porcelain veneers at his practice and has helped sponsor the nationwide annual event for over ten years. People may bring toys or cash donations to his office until December 9.
At his Odessa cosmetic dentistry practice, Dr. Robin Rutherford will be collecting new toys and cash donations for underprivileged children through the Marine Toys for Tots program. In his tenth year of supporting the organization, Dr. Rutherford says he is excited to continue sharing in the spirit of giving with those who are less fortunate. Donations will be accepted at his practice until December 9, at which point the toys will be picked up for distribution to less fortunate children in the Odessa area. Any cash donations will be used to purchase additional toys for children. Dr. Rutherford says participation in the nationwide program has been a privilege and an honor for his practice, and adds his entire staff is looking forward to the opportunity to give back. "Since we've been one of the collection locations for so many years, people now just plan to bring their donations to us. We really enjoy helping."
Toys for Tots was founded in 1947 by Major William Hendricks of the United States Marine Corps, now a retired Colonel, and a group of Marine reservists in Los Angeles. The charity is now designated as an official activity of the U.S. Marine Corps Reserve. Through the collections of over 400 million toys in the 64 years of the program's existence, Toys for Tots has provided over 188 million needy children with new toys for the holidays in communities across the country.
Dr. Rutherford says that although his practice has typically collected a large amount of donations in past years, he hopes this year will bring even more toys to those in need. He adds that he hopes to continue supporting the program and providing less fortunate children with gifts during the holidays for many years to come. "One of the best things about it has been taking the cash donations and taking our own children to help buy the toys. What a great lesson that has been for our own children in helping others."
About Robin Rutherford, DDS
Dr. Robin Rutherford graduated with honors from Texas A&M University and received his dental education at the University of Texas Dental School at San Antonio. He is a member of the American Academy of Cosmetic Dentistry and the American Orthodontic Society. Dr. Rutherford is also a Fellow of the Dental Organization for Conscious Sedation, an honor achieved by fewer than 2% of sedation dentists. He is a Diplomate of the American Dental Implant Association, a distinction awarded to less than 1% of member dentists. Dr. Rutherford has been voted the "Best Dentist in Odessa" by the Odessa American Readers' Choice poll, and named Texas Super Dentist in the December 2011 issue of Texas Monthly Magazine. He continues his dental education with over 400 hours of advanced study in dental implants, porcelain veneers, and other cosmetic procedures in the past three years.
Located at 4712 E. University in Odessa, TX, Dr. Rutherford's practice The Art of Dentistry can be reached at (800) 55-GENTLE or (432) 367-0202. It can also be contacted online through the website gentledentaldoc.com or www.facebook.com/gentledentaldoc.
###