Dental Implants Frequently Asked Questions (FAQs)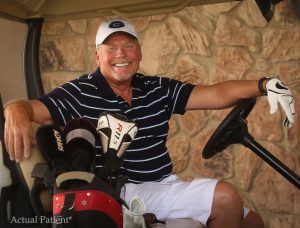 Dental implants are an innovative cosmetic dentistry solution and are quickly becoming the gold standard for replacing missing teeth. To allow prospective patients to better understand how dental implants work, Dr. Robin Rutherford has answered a series of questions our patients frequently ask during the initial consultation process.
Are dental implants better than traditional dentures?
While both dental implants and traditional dentures can effectively replace a full set of missing teeth, dental implants have a number of distinct advantages. A denture is crafted to mimic an entire row of teeth, while each dental implant is individually designed to function just like a natural tooth. Consequently, dental implants can be easily cleaned and require no extra maintenance. With dental implants, messy adhesives are a problem of the past. Once the titanium post of the implant fuses to the jawbone, dental implants can serve as a much more stable and comfortable solution for missing teeth.
Will dental implants improve the form and function of my teeth?
Dental implants can rebuild the integrity of your bite and restore your ability to speak and chew with ease. The solution can also help prevent your adjacent teeth from shifting position as well as reduce the risk of bone loss. In addition to enhancing oral function, dental implants from Dr. Rutherford are custom-designed to give your smile a beautiful appearance. The porcelain crowns that finish your dental implants are handcrafted to look just like natural teeth for a seamless smile.
What are the risks associated with the dental implant procedure?
As with any surgery, the dental implant procedure involves some risk. At The Art of Dentistry, we prioritize your safety and comfort throughout the dental implant procedure to help ensure the procedure and your recovery go as smoothly as possible. Using advanced 3D imaging technology, Dr. Rutherford can map out the best location for your dental implants and minimize the chance of complications with an accurate placement and a precise fit. By following our post-operative care instructions closely, you can further reduce the risk of compromising your results. With Dr. Rutherford's skill and experience in dental implant surgery, you can feel confident that you are receiving the highest quality of care.
Is the dental implant procedure painful?
While the dental implant procedure can be performed using a local anesthetic, we also offer sedation dentistry for patients with high levels of dental anxiety. With oral conscious sedation, a single pill can be taken by mouth, placing you in an extremely relaxed state for the duration of your procedure. Although you can still communicate with the dentist, some patients enter a sleep-like state.
How long do dental implants last?
The titanium post of each dental implant is designed to fuse to the jawbone and become a permanent part of your mouth. Once the porcelain crown is attached to this post, your dental implant is complete and will function just like a normal tooth. The best way to protect and prolong the lifespan of your dental implant is to maintain proper oral hygiene and schedule twice-yearly oral exams with your dentist. No extra care is needed to enjoy your new, beautiful smile for decades.
Contact The Art of Dentistry
Have more questions? Please contact us to set up a consultation with Dr. Rutherford, so he can provide you with a more detailed and personalized look at what you can expect from dental implants.