How Many Implants are Used for Implant-Supported Dentures?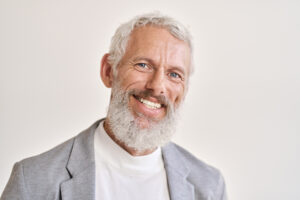 Previously a common dental treatment for missing teeth, traditional dentures are no longer the standard recommendation for many patients. There are now a variety of innovative techniques and restorative treatments available, such as implant-supported dentures and All-on-4® implant dentures, which are designed to replace missing teeth with long-lasting, natural-looking results. These treatments also make it possible for patients to no longer be concerned about removable dentures coming loose while they're talking or eating, or have to deal with the extra maintenance that's usually associated with conventional dentures. In today's blog post, we'll walk you through the basics of these common denture alternatives and talk about the number of dental implants that may be necessary to sufficiently support a custom denture. 
Combining dental implants and dentures, implant-supported dentures offer natural-looking results and a secure fit. The treatment features the placement of a select number of dental implant posts designed to fuse to the jawbone, creating a stable foundation for a custom denture that will be attached to the posts. Implant-supported dentures are often utilized for full arch restorations, meaning they replace an entire row of missing teeth. Ultimately, an implant-supported denture can dramatically reduce the need for messy denture adhesives to stay securely on the gums without slipping. Other potential benefits include minimized gum irritation, a sturdier fit than traditional dentures, and results that feel more like natural teeth. The number of dental implants necessary will depend on jawbone strength and how many implants it may take to provide the best foundational support for the denture. The goal is to produce a support base that is strong enough to ensure maximum stability on the gums without the need for denture adhesives. 
One of the more popular forms of implant-supported dentures is the All-on-4® treatment, which utilizes four strategically placed dental implants in the upper dental arch or the lower dental arch (depending on which arch needs teeth replacement), acting as anchors for a custom denture. Two posts are typically implanted towards the front of the mouth and two positioned towards the back. Like other types of implant-supported dentures, All-on-4® is designed to replace an entire row of teeth for a strong, comprehensive restoration. Patients who pursue All-on-4® can generally experience an improvement in their chewing abilities, a lack of sore spots that can arise from loose dentures, and lower maintenance than traditional dentures. 
Now, is All-on-4® ideal for each patient pursuing implant-supported dentures? Not necessarily. Other methods may be recommended to patients with certain conditions and oral health concerns. For example, patients who do not have adequate jawbone density in certain areas needed to fully secure the implant posts may be advised to undergo the All-on-6 treatment, which uses two additional implants for greater foundational support. 
At The Art of Dentistry, Dr. Robin Rutherford and his team are dedicated to enhancing the smiles and confidence of our patients. Dr. Rutherford offers many restorative treatment options to help patients achieve their dental goals, all while taking their specific needs into consideration. For more information about implant-supported dentures and All-on-4®, contact our office to schedule a consultation. Dr. Rutherford can evaluate your needs and talk with you about which of the many missing teeth replacement options available at our practice may be the most ideal for your goals.