How to Fix a Gummy Smile?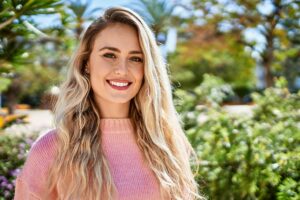 Excess gum tissue around the teeth is commonly referred to as a "gummy smile." This common condition can cause many individuals to feel self-conscious about their appearance. There are a few potential causes of a gum-centric smile, such as genetics, a hyperactive upper lip, an irregular bite, and other factors. Fortunately, there are options designed to effectively improve a gummy smile with long-term results. Dental fixes that address the asymmetrical gum-to-teeth ratio typically modify the gumline's position to make teeth more noticeable and the gums less of a focal point, creating a more balanced smile. 
At The Art of Dentistry, Dr. Robin Rutherford offers a variety of cosmetic and restorative treatments aimed to improve oral conditions and give patients the smile of their dreams. Available treatments at our practice for a gummy smile include:  
Gum Reshaping: A gum reshaping procedure offers an effective way to address a gummy smile. With advanced diode laser technology, Dr. Rutherford can precisely contour the gum tissue for a more proportional smile. This technique is customizable to address a patient's individual needs and cosmetic goals for optimal results. The procedure is fairly quick and does not often require an extensive recovery period. 
Smile Makeover: Patients looking to fully enhance their smile may benefit from a Smile Makeover. This solution typically combines several cosmetic and restorative dentistry treatments, including techniques that can improve a gummy smile, to produce comprehensive smile rejuvenation. Options that are often part of a Smile Makeover include gum reshaping, teeth whitening, and porcelain veneers. Smile Makeovers are tailored to a patient's specific needs, goals, and oral conditions. 
For more information on gummy smiles and dental solutions, contact our office to schedule a consultation.