"An Apple A Day" Magazine Publishes Feature on Dr. Rutherford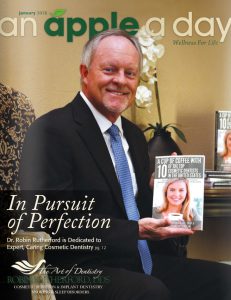 When people in the western Texas area pick up a copy of An Apple A Day's January issue, they'll be greeted by a picture of Dr. Robin Rutherford! Our cosmetic dentist graces the cover of the popular health and wellness magazine and even has a two-page article within the publication. His story is shared in a feature called "In Pursuit of Perfection," and it details what Dr. Rutherford values and works so hard to provide here at The Art of Dentistry.
For the feature, Dr. Rutherford was interviewed about his expertise and what makes him "not your average dentist." The article covers his dedication to not only providing everything in-house – such as placing dental implants as well as the crowns – but also making sure these solutions are of the highest quality.
The story emphasizes Dr. Rutherford's commitment to continuing education, highlighting his mission to never stop learning and striving to be the best. His expertise has been recognized by awards like Texas Monthly Magazine's "Super Dentist" title, as well as the 2015 Amazon bestseller he co-authored, "A Cup of Coffee with 10 of the Top Cosmetic Dentists in the US."
From cosmetic procedures to other advanced options like sedation dentistry, Dr. Rutherford's commitment to patient safety, comfort, and overall satisfaction is obvious within the article. You can find the issue online here and read his story on pages 14-15.
If you have any questions, or would like to schedule your appointment with Dr. Rutherford, feel free to contact us. After all, "Improving your smile with a gentle, experienced dentist who provides comprehensive care is a lot easier than you may have ever thought!"