Odessa Cosmetic Dentist Sponsors 15th Annual Toy Drive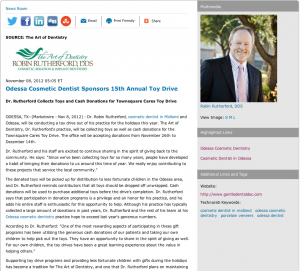 Dr. Rutherford collects toys and cash donations for Townsquare Cares Toy Drive
Odessa, TX – Dr. Robin Rutherford, cosmetic dentist in Midland and Odessa, will be conducting a toy drive out of his practice for the holidays this year. The Art of Dentistry, Dr. Rutherford's practice, will be collecting toys as well as cash donations for the Townsquare Cares Toy Drive. The office will be accepting donations from November 26th to December 14th.
Dr. Rutherford and his staff are excited to continue sharing in the spirit of giving back to the community. He says: "Since we've been collecting toys for so many years, people have developed a habit of bringing their donations to us around this time of year. We really enjoy contributing to these projects that service the local community."
The donated toys will be picked up for distribution to less fortunate children in the Odessa area, and Dr. Rutherford reminds contributors that all toys should be dropped off unwrapped. Cash donations will be used to purchase additional toys before the drive's completion. Dr. Rutherford says that participation in donation programs is a privilege and an honor for his practice, and he adds his entire staff is enthusiastic for this opportunity to help. Although his practice has typically collected a large amount of donations in past years, Dr. Rutherford and the rest of his team at his Odessa cosmetic dentistry practice hope to exceed last year's generous numbers.
According to Dr. Rutherford: "One of the most rewarding aspects of participating in these gift programs has been utilizing the generous cash donations of our patients and taking our own children to help pick out the toys. They have an opportunity to share in the spirit of giving as well. For our own children, the toy drives have been a great learning experience about the value in helping others."
Supporting toy drive programs and providing less fortunate children with gifts during the holidays has become a tradition for The Art of Dentistry, and one that Dr. Rutherford plans on maintaining for years to come.
About Robin Rutherford, DDS
Dr. Robin Rutherford is a graduate of Texas A&M University and received his medical degree at the University of Texas Dental School at San Antonio. He has been voted the "Best Dentist in Odessa" by the Odessa American Readers' Choice poll and named Texas Super Dentist in the December 2011 issue of Texas Monthly Magazine. Dr. Rutherford has continued his dental education with over 400 hours of advanced study in dental implants, porcelain veneers, and other cosmetic procedures in the past four years. He is an active member of the American Academy of Cosmetic Dentistry, the American Orthodontic Society, a Fellow of the Dental Organization for Conscious Sedation, and a Diplomat of the American Dental Implant Association. Dr. Rutherford is available for interview upon request.