Odessa Dentist on Using Porcelain Veneers for Tetracycline-Stained Teeth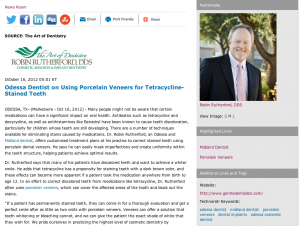 Odessa, TX–Many people might not be aware that certain medications can have a significant impact on oral health. Antibiotics such as tetracycline and doxycycline, as well as antihistamines like Benadryl have been known to cause teeth discoloration, particularly for children whose teeth are still developing. There are a number of techniques available for eliminating stains caused by medications. Dr. Robin Rutherford, an Odessa and Midland dentist, offers customized treatment plans at his practice to correct stained teeth using porcelain dental veneers. He says he can easily mask imperfections and create uniformity within the teeth structure, helping patients achieve optimal results.
Dr. Rutherford says that many of his patients have discolored teeth and want to achieve a whiter smile. He adds that tetracycline has a propensity for staining teeth with a dark brown color, and these effects can become more apparent if a patient took the medication anywhere from birth to age 12. In an effort to correct discolored teeth from medications like tetracycline, Dr. Rutherford often uses porcelain veneers, which can cover the affected areas of the tooth and block out the stains.
"If a patient has permanently stained teeth, they can come in for a thorough evaluation and get a perfect smile after as little as two visits with porcelain veneers. Veneers can offer a solution that teeth whitening or bleaching cannot, and we can give the patient the exact shade of white that they wish for. We pride ourselves in practicing the highest level of cosmetic dentistry by transforming discolored or stained teeth into beautiful smiles."
At his practice, Dr. Rutherford performs an array of procedures such as dental implants, porcelain veneers, teeth whitening and orthodontics. By employing the most innovative and advanced dental techniques, Dr. Rutherford strives to give his patients the highest quality results. He and his team at The Art of Dentistry concentrate on providing personalized attention to each patient to accommodate their individual needs. Whether patients opt for procedures to remove stains from their teeth or simply a routine dental cleaning, Dr. Rutherford says he takes the necessary steps to make his patients' visits as comfortable and hassle-free as possible.
About Robin Rutherford, DDS
Dr. Robin Rutherford is a graduate of Texas A&M University and obtained his dental degree from the University of Texas Dental School at San Antonio. He is a Fellow of the Dental Organization for Conscious Sedation and a member of the American Academy of Cosmetic Dentistry as well as the American Orthodontic Society. Dr. Rutherford is a Diplomate of the American Dental Implant Association. For the past two years, he has been featured in Texas Monthly magazine as a "Texas Super Dentist" and was selected to the Consumer Research Council's Guide to America's Top Dentists.
Located at 4712 E. University in Odessa, TX, Dr. Rutherford's practice can be reached at (432) 367-0202. He can also be contacted online via the website gentledentaldoc.com or at facebook.com/gentledentaldoc