Odessa Cosmetic Dentist on Benefits of Sedation Dentistry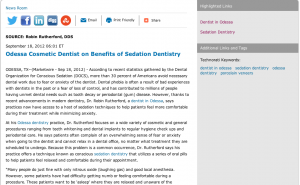 Odessa, TX — According to recent statistics gathered by the Dental Organization for Conscious Sedation (DOCS), more than 30 percent of Americans avoid necessary dental work due to fear or anxiety of the dentist. Dental phobia is often a result of bad experiences with dentists in the past or a fear of loss of control, and has contributed to millions of people having unmet dental needs such as tooth decay or periodontal (gum) disease. However, thanks to recent advancements in modern dentistry, Dr. Robin Rutherford, a dentist in Odessa, says practices now have access to a host of sedation techniques to help patients feel more comfortable during their treatment while minimizing anxiety.
At his Odessa dentistry practice, Dr. Rutherford focuses on a wide variety of cosmetic and general procedures ranging from teeth whitening and dental implants to regular hygiene check ups and periodontal care. He says patients often complain of an overwhelming sense of fear or anxiety when going to the dentist and cannot relax in a dental office, no matter what treatment they are scheduled to undergo. Because this problem is a common occurrence, Dr. Rutherford says his practice offers a technique known as conscious sedation dentistry that utilizes a series of oral pills to help patients feel relaxed and comfortable during their appointment.
"Many people do just fine with only nitrous oxide (laughing gas) and good local anesthesia. However, some patients have had difficulty getting numb or feeling comfortable during a procedure. These patients want to be 'asleep' where they are relaxed and unaware of the treatment as it is performed and then have no recollection of the appointment."
After taking one pill the night before the procedure, Dr. Rutherford says patients arrive to the appointment a little drowsy and in a very relaxed state of mind. Vital signs are monitored closely to ensure safety, adding that most patients sleep for the duration of the treatment. Because of the sedative effects of the medication, however, Dr. Rutherford says patients will need someone to drive them to and from the office. Patients are technically conscious, but in a deep state of relaxation so they experience no pain and little to no memory of the procedure.
"A patient will be sedated for as long as it takes to do the dental work we're trying to accomplish that day. We limit the number of dental appointments to as few as possible, resulting in fewer times off work and less travel, which makes dental treatment realistic for our busy patients."
Whether they are looking for porcelain veneers or a restorative procedure such as dental implants, Dr. Rutherford says sedation dentistry has been one of the most groundbreaking discoveries in the past ten years of dental technology. Although oral conscious sedation can be used to help alleviate the stress of dental anxiety for patients, he says he encourages anyone considering the treatment to consult with an experienced and professional dentist before undergoing any procedure. Through partnership with a compassionate and dedicated practice, Dr. Rutherford says patients will be able to experience the benefits of a beautiful, healthy mouth without the fear of pain or discomfort.
About Robin Rutherford, DDS
A graduate of Texas A&M University, Dr. Robin Rutherford earned his dental degree from the University of Texas Dental School at San Antonio. He is a member of the American Academy of Cosmetic Dentistry and the American Orthodontic Society, as well as a Fellow of the Dental Organization for Conscious Sedation and a Diplomate of the American Dental Implant Association. For the past two years, Dr. Rutherford has been featured in Texas Monthly magazine as a "Texas Super Dentist" and was selected to the Consumer Research Council's Guide to America's Top Dentists.
Located at 4712 E. University in Odessa, TX, Dr. Rutherford's practice can be reached at (432) 367-0202. He can also be contacted online via the website gentledentaldoc.com or facebook.com/gentledentaldoc.