Odessa Cosmetic Dentist on Six Month Smiles® Approach to Straight Teeth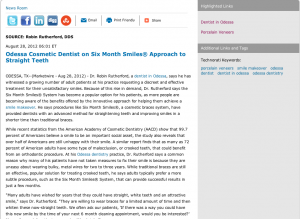 Odessa, TX — Dr. Robin Rutherford, a dentist in Odessa, says he has witnessed a growing number of adult patients at his practice requesting a discreet and effective treatment for their unsatisfactory smiles. Because of this rise in demand, Dr. Rutherford says the Six Month Smiles® System has become a popular option for his patients, as more people are becoming aware of the benefits offered by the innovative approach for helping them achieve a smile makeover. He says procedures like Six Month Smiles®, a cosmetic braces system, have provided dentists with an advanced method for straightening teeth and improving smiles in a shorter time than traditional braces.
While recent statistics from the American Academy of Cosmetic Dentistry (AACD) show that 99.7 percent of Americans believe a smile to be an important social asset, the study also reveals that over half of Americans are still unhappy with their smile. A similar report finds that as many as 72 percent of American adults have some type of malocclusion, or crooked teeth, that could benefit from an orthodontic procedure. At his Odessa dentistry practice, Dr. Rutherford says a common reason why many of his patients have not taken measures to fix their smile is because they are uneasy about wearing bulky, metal wires for two to three years. While traditional braces are still an effective, popular solution for treating crooked teeth, he says adults typically prefer a more subtle procedure, such as the Six Month Smiles® System, that can provide successful results in just a few months.
"Many adults have wished for years that they could have straight, white teeth and an attractive smile," says Dr. Rutherford. "They are willing to wear braces for a limited amount of time and then whiten these now-straight teeth. We often ask our patients, 'If there was a way you could have this new smile by the time of your next 6 month cleaning appointment, would you be interested?' Many of our adult patients are saying 'Absolutely.'"
The Six Month Smiles® System utilizes small, tooth-colored brackets and wires and gentle forces to position teeth into an ideal alignment. Because they focus mainly on the front teeth, Dr. Rutherford says the procedure time is greatly reduced and almost all of his patients finish their treatment within four to eight months. Once the brackets are removed and the procedure is complete, he says patients are advised to wear a removable retainer for a period of time in order to ensure teeth stay in the desired location.
"After any orthodontic treatment of any length, a major goal is for the now-straight teeth to stay straight," says Dr. Rutherford. "Wearing a retainer is our best attempt to make teeth stay where we placed them. We recommend wearing retainers 24 hours a day for six months and then just at night from then on. Unfortunately, patients who are not diligent about their retainers take a gamble as to whether or not their teeth stay straight."
Regardless of whether patients decide on the Six Month Smiles® System, traditional braces, or another cosmetic treatment such as porcelain veneers for achieving a straighter smile, Dr. Rutherford says one of the most important steps to proper dental care is choosing the right dentist. He encourages patients to be sure to consult with an experienced and qualified cosmetic dentist before undergoing any treatment. By partnering with a dedicated practice, he says patients can ensure they receive the highest quality care and the most effective results possible.
About Robin Rutherford, DDS
Dr. Robin Rutherford graduated with honors from Texas A&M University and earned his dental degree from the University of Texas Dental School at San Antonio. He is a member of the American Academy of Cosmetic Dentistry, a Fellow of the Dental Organization for Conscious Sedation, and a Diplomate of the American Dental Implant Association. Dr. Rutherford has dedicated over 400 hours to his continued education in the past three years alone, and has been selected to the Consumer Research Council "Guide to America's Top Dentists" as well as the "Best Dentist in Odessa" by an Odessa American Reader's Choice poll.
Located at 4712 E. University in Odessa, TX, Dr. Rutherford's practice can be reached at (432) 367-0202. It can also be contacted online via the websites gentledentaldoc.com or facebook.com/gentledentaldoc.