Odessa Cosmetic Dentistry Practice Now Offering 6 Month Smile Makeover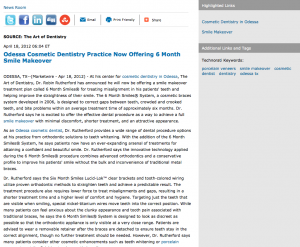 Odessa, TX — At his center for cosmetic dentistry in Odessa, Dr. Robin Rutherford has announced he will now be offering a smile makeover treatment plan called 6 Month Smiles® for treating misalignment in his patients' teeth and helping improve the straightness of their smile. The 6 Month Smiles® System, a cosmetic braces system developed in 2006, is designed to correct gaps between teeth, crowded and crooked teeth, and bite problems within an average treatment time of approximately six months. Dr. Rutherford says he is excited to offer the effective dental procedure as a way to achieve a full smile makeover with minimal discomfort, shorter treatment, and an attractive appearance.
As an Odessa cosmetic dentist, Dr. Rutherford provides a wide range of dental procedure options at his practice from orthodontic solutions to teeth whitening. With the addition of the 6 Month Smiles® System, he says patients now have an ever-expanding arsenal of treatments for attaining a confident and beautiful smile. Dr. Rutherford says the innovative technology applied during the 6 Month Smiles® procedure combines advanced orthodontics and a conservative profile to improve his patients' smile without the bulk and inconvenience of traditional metal braces.
Dr. Rutherford says the Six Month Smiles Lucid-LokTM clear brackets and tooth-colored wiring utilize proven orthodontic methods to straighten teeth and achieve a predictable result. The treatment procedure also requires lower force to treat misalignments and gaps, resulting in a shorter treatment time and a higher level of comfort and hygiene. Targeting just the teeth that are visible when smiling, special nickel-titanium wires move teeth into the correct position. While many patients can feel anxious about the clunky appearance and tooth pain associated with traditional braces, he says the 6 Month Smiles® System is designed to look as discreet as possible so that the orthodontic appliance is only visible at a very close range. Patients are advised to wear a removable retainer after the braces are detached to ensure teeth stay in the correct alignment, though no further treatment should be needed. However, Dr. Rutherford says many patients consider other cosmetic enhancements such as teeth whitening or porcelain veneers to put the finishing touches on their smile.
"Many adults would never consider orthodontics because of the traditional metal brackets and 18-30 months treatment time. However, with 6 Month Smiles, all of the cosmetic benefits one would expect from the longer treatment time can be attained in only 6 months of treatment using tooth colored – almost invisible – white brackets and wires. This is a huge breakthrough, lowering the costs in time and inconvenience to the point that many people now are willing to invest 6 months to have the smile of the dreams for the rest of their lives," says Dr. Rutherford
As more and more advancements in orthodontic and cosmetic dentistry techniques like the 6 Month Smiles® System continue to emerge, Dr. Rutherford says he hopes to pursue the highest level of patient care available by keeping up-to-date with the latest products on the market. He adds that patients looking to brighten their smile and improve self-confidence now have a host of opportunities at their fingertips and he looks forward to providing his patients with quality treatments in dental cosmetics: "Just as a skilled carpenter has many tools and techniques to choose from and selects just the right combination to produce a beautiful result, we can combine all the techniques we know to fit a patient's situation to give them the healthiest mouth and best smile possible. Whether we utilize 1 hour Zoom teeth whitening, porcelain veneers, 6 Month Smiles, laser dentistry or dental implants, we do everything in office to ensure our patients' reclaim their oral health and the beaming smile they've always wanted."
About Robin Rutherford, DDS
Dr. Robin Rutherford graduated with honors from Texas A&M University and attended the University of Texas Dental School at San Antonio where he graduated in the top quarter of his class shortly before it was ranked as the top dental school in the nation. He is a Fellow of the Dental Organization for Conscious Sedation, a distinction achieved by fewer than 2% of sedation dentists. Dr. Rutherford is also a member of the American Academy of Cosmetic Dentistry and the American Orthodontic Society, and a Diplomate of the American Dental Implant Association, an honor awarded to less than 1% of member dentists. He was honored in the December 2011 edition of Texas Monthly magazine as one of their 2011 "Texas Super Dentists." He was nominated by other Texas dentists and Texas Monthly then researched Dr. Rutherford's achievements, continuing education, and reputation honoring him as one of the top 5% of Texas Dentists. His office has been ranked in the top one percent of dental practices and has dedicated over 400 hours in the past three years alone to continued education.
Located at 4712 E. University in Odessa, TX, Dr. Rutherford's practice can be reached at (432) 367-0202. He can also be contacted online via the websites gentledentaldoc.com or facebook.com/gentledentaldoc.
Contact:
Rosemont Media
Aaron Hurst
[email protected]
(858) 200-0044
www.rosemontmedia.com
###