The Art of Dentistry in the News with Smile Makeover Contest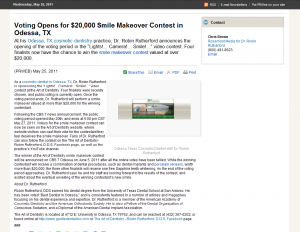 At his Odessa, TX cosmetic dentistry practice, Dr. Robin Rutherford announces the opening of the voting period in the "Lights!… Camera!… Smile!…" video contest. Four finalists now have the chance to win the smile makeover contest valued at over $20,000.
As a cosmetic dentist in Odessa, TX, Dr. Robin Rutherford is sponsoring the "Lights!… Camera!… Smile!…" video contest at the Art of Dentistry. Four finalists were recently chosen, and public voting is currently open. Once the voting period ends, Dr. Rutherford will perform a smile makeover valued at more than $20,000 for the winning contestant.
Following the CBS 7 news announcement, the public voting period opened May 20th, and ends at 5:00 pm CST May 27, 2011. Videos for the smile makeover contest can now be seen on the Art of Dentistry website, where website visitors can cast their vote for the contestant they feel deserves the smile makeover. Fans of Dr. Rutherford can also follow the contest on the The Art of Dentistry-Robin Rutherford, D.D.S. Facebook page, as well as the practice's YouTube channel.
The winner of the Art of Dentistry smile makeover contest will be announced on CBS 7 Odessa on June 5, 2011 after all the online votes have been tallied. While the winning contestant will receive a combination of dental procedures, such as dental implants and porcelain veneers, worth more than $20,000, the three other finalists will receive one free Sapphire teeth whitening. As the end of the voting period approaches, Dr. Rutherford says he and his staff are looking forward to the results of the contest, and excited about the eventual unveiling of the winning contestant's new smile.
About Dr. Rutherford
Robin Rutherford, DDS earned his dental degree from the University of Texas Dental School at San Antonio. He has been voted "Best Dentist in Odessa," and is consistently featured in a number of articles and magazines focusing on his dental experience and expertise. Dr. Rutherford is a member of the American Academy of Cosmetic Dentistry and the American Orthodontic Society. He is also a Fellow of the Dental Organization of Conscious Sedation, and a Diplomat of the American Dental Implant Association.
The Art of Dentistry is located at 4712 E. University in Odessa, TX 79762, and can be reached at (432) 367-0202, or found online at www.gentledentaldoc.com or The Art of Dentistry –Robin Rutherford, D.D.S. Facebook page.
###