Winner Announced in $20,000 Smile Makeover Video Contest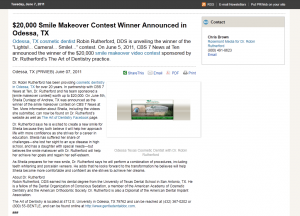 Odessa, TX cosmetic dentist Robin Rutherford, DDS is unveiling the winner of the "Lights!… Camera!… Smile!…" contest. On June 5, 2011, CBS 7 News at Ten announced the winner of the $20,000 smile makeover video contest sponsored by Dr. Rutherford's The Art of Dentistry practice.
Dr. Robin Rutherford has been providing cosmetic dentistry in Odessa, TX for over 20 years. In partnership with CBS 7 News at Ten, Dr. Rutherford and his team sponsored a [smile makeover contest] worth up to $20,000. On June 5th, Sheila Dunlapp of Andrew, TX was announced as the winner of the smile makeover contest on CBS 7 News at Ten. More information about Sheila, including the videos she submitted, can now be found on Dr. Rutherford's website as well as The Art of Dentistry Facebook page.
Dr. Rutherford says he is excited to create a new smile for Sheila because they both believe it will help her approach life with more confidence as she strives for a career in education. Sheila has suffered her share of challenges—she lost her sight to an eye disease in high school, and has a daughter with special needs—but believes the smile makeover with Dr. Rutherford will help her achieve her goals and regain her self-esteem.
As Sheila prepares for her new smile, Dr. Rutherford says he will perform a combination of procedures, including teeth whitening and porcelain veneers. He adds that he looks forward to the transformation he believes will help Sheila become more comfortable and confident as she strives to achieve her dreams.
About Dr. Rutherford
Robin Rutherford, DDS earned his dental degree from the University of Texas Dental School in San Antonio, TX. He is a fellow of the Dental Organization of Conscious Sedation, a member of the American Academy of Cosmetic Dentistry and the American Orthodontic Society. Dr. Rutherford is also a Diplomat of the American Dental Implant Association.
The Art of Dentistry is located at 4712 E. University in Odessa, TX 79762 and can be reached at (432) 367-0202 or (800) 55-GENTLE, and can be found online at www.gentledentaldoc.com.
###