How Can I Treat Tetracycline Stains on My Teeth?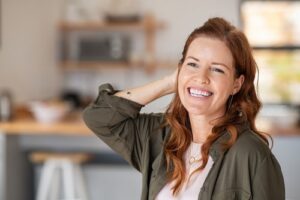 Stains can develop on the teeth for a variety of reasons. One not so obvious cause is from tetracycline, an antibiotic used for bacterial infections. Tetracycline stains are one of the most difficult types of discoloration to get rid of. Luckily, our experienced cosmetic dentist – Robin Rutherford, DDS – offers porcelain veneers as an effective solution for covering tetracycline-stained teeth.
When teeth become exposed to the antibiotic tetracycline during tooth mineralization or calcification, the tetracycline can bind to the teeth causing stains. This discoloration can show up as yellow at first and gradually turn gray or brown over time. Because the stains become intrinsically part of the tooth enamel, professional teeth whitening methods and over-the-counter teeth bleaching products are typically not effective at removing tetracycline discoloration. While these stains are essentially permanent, patients should not worry too much because porcelain veneers can be an ideal treatment for achieving a whiter smile.
While teeth whitening treatments cannot reverse the effects of tetracycline on the teeth, porcelain veneers can completely cover up stains and discoloration. Porcelain veneers are thin porcelain shells that are placed over the front of the tooth and are customized to match the shade of surrounding teeth to produce natural-looking results. Veneers can also do more than cover up stains and discoloration, they can effectively conceal other dental concerns including gaps, cracks, chips, misalignment, and misshapen teeth. From tetracycline stains to worn down teeth, porcelain veneers can be the optimal solution for reaching your smile goals.
If you would like to learn more about how porcelain veneers can treat tetracycline tooth discoloration, or to schedule a consultation, we invite you to contact our practice today!