Which Is Right for Me: Six Month Smiles® or Traditional Braces?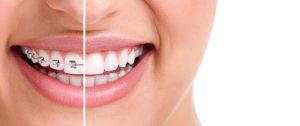 A variety of orthodontic solutions are available to help you achieve a straight smile. At The Art of Dentistry, our patients can choose from two systems in particular: traditional braces and Six Month Smiles®. Both options involve brackets that are bonded to the front surfaces of your teeth, as well as wires that are attached. Over time, they gradually shift your teeth to the desired position. Since both braces types can provide beautiful results for the right candidates, you may be wondering, "Which one is right for me?"
In general, traditional braces are best for those with complex bite issues caused by misalignment. They take about two years on average to effectively straighten teeth, though this can vary. Most of the time, these metal braces are ideal for younger individuals whose teeth need more elaborate correction.
Six Month Smiles®, on the other hand, is a great option for those who need braces to fix alignment issues and gaps in the front of the mouth that are cosmetic in nature. The innovative solution uses clear brackets and tooth-colored wires that gradually shift the teeth with low-force movement over the course of about six months.
When you come in for you initial consultation, Dr. Robin Rutherford will recommend the best solution for your teeth straightening needs.